My main research focus has been on influence processes and small group decision making with an emphasis on the quality of the decision making. In particular, we have long studied the the ways in which minority viewpoints stimulate thought that serves the detection of "truths" and more creative decision making. This emphasis has taken me in several directions: (1) how and why minority views stimulate divergent and creative thought, (2) individual and group creativity, (3) composition of groups and the role of diversity, (4) cultural contexts and cross-cultural differences, (5) techniques that raise the quality of decision making and (6) applications to law and business. For the application to law, the research has focused on jury decision making and on appellate issues relevant to juries; for the application to law, the research has focused on innovative corporate cultures and on leading teams within organizations.

Tthough most of my published work has been experimental in nature, my more recent teaching and research has concentrated on the application of such findings. One project on individual creativity involved 12 hr interviews with each of 5 Nobellaureates in Chemistry and Physics. Other teaching and invited talks have concentrated on the quality of jury decision making and the quality of top boards in organizations. Most recently, the emphasis has been on applications to business. Having taught at London Business School in 2005-6 ad leading their field trips to Capetown, my teaching, writing and research has emphasized the art of persuasion, leading teams and developing corporate cultures for innovation.

A full description of my professional life as teacher, researcher, executive education can be found at www.CharlanNemeth.com

My recent book In Defense of Troublemakers:The Power of Dissent in Life and Business is the culmination of decades of research on this issue. It is published by Basic Books and has made it on Adam Grant's list of new idea books to read in 2018 and the list of "10 new business books everyone will be talking about in a few months"
https://www.inc.com/jessica-stillman/adam-grant-every-leader-should-check-out-these-10-new-business-books.html

https://www.basicbooks.com/titles/charlan-nemeth/in-defense-of-troublemakers/9780465096299/
Primary Interests:
Applied Social Psychology
Group Processes
Interpersonal Processes
Judgment and Decision Making
Law and Public Policy
Organizational Behavior
Persuasion, Social Influence
Social Cognition
Note from the Network: The holder of this profile has certified having all necessary rights, licenses, and authorization to post the files listed below. Visitors are welcome to copy or use any files for noncommercial or journalistic purposes provided they credit the profile holder and cite this page as the source.
Image Gallery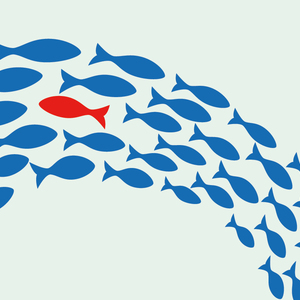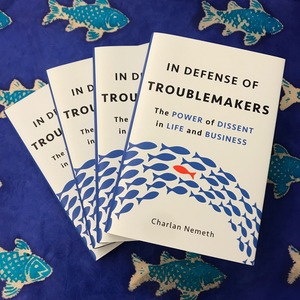 Books:
Journal Articles:
Nemeth, C. (1995). Dissent as driving cognition, attitudes, and judgments. Social Cognition, 13, 273-291.
Nemeth, C. J. (1986). The differential contributions of majority and minority influence. Psychological Review, 93, 23-32.
Nemeth, C. J., Personnaz, M., Personnaz, B., & Goncalo, J. (2004). The liberating role of conflict in group creativity: A cross-national study. European Journal of Social Psychology, 34, 365-374.
Nemeth, C., Rogers, J., & Brown, K. (2001). Devil's advocate vs. authentic dissent: Stimulating quantity and quality. European Journal of Social Psychology, 31, 707-720.
Other Publications:
Nemeth, C. (1981). Jury trials: Psychology and the law. In L. Berkowitz (Ed.), Advances in experimental social psychology (Vol. 14, pp. 309-367). New York: Academic Press.
Nemeth, C. J., & Goncalo, J. A. (2010). Rogues and heroes: Finding value in dissent. In J. Jetten and M. Hornsey (Eds.), Rebels in groups: Dissent, deviance, difference and defiance.
Nemeth, C. J., & Goncalo, J. A. (2005). Influence and persuasion in small groups. In T. C. Brock and M. C. Green (Eds.), Persuasion: Psychological Insights and Perspectives. London: Sage Publications (pp. 171-194).
Nemeth, C. J., & Staw, B. M. (1989). The tradeoffs of social control and innovation within groups and organizations. In L. Berkowitz (Ed.), Advances in experimental social psychology (Vol. 22, pp. 175-210). New York: Academic Press.
Nemeth, C., & O'Connor, A.(2018) Better than Individuals? Dissent and group creativity. In P.B. Paulus and B.A. Nijstad (Eds.), Handbook of Group creativity. Oxford: Oxford University Press.
Nemeth, C. J. (2010). Minority Influence Theory. In P. Van Lange, A. Kruglanski and T. Higgins (Eds.), Handbook of Theories in Social Psychology. New York: Sage. .
Courses Taught:
Corporate Cultures of Innovation
Group Decision Making
Group Processes
Innovation in Small Groups and Organizations
Jury Trials: Law and Psychology
The Art and Science of Persuasion
The Psychology of Creativity
Charlan Jeanne Nemeth
Department of Psychology
University of California, Berkeley
Berkeley, California 94720
United States